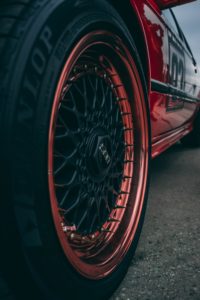 You may notice that during the winter months as the temperature gets colder, your tire pressure monitoring system (TPMS) lights up more frequently. The Car Care Council recommends that you pay closer attention to your car's tire pressure during the colder months to keep the TPMS light off and keep you and your vehicle safe on the road.
"It's typical at this time of year for motorists to get TPMS warnings and then get worried about their tires" says Rich White who is the executive director of the Car Care Council. "Often drivers will see this in the morning when it's coldest. If the temperature warms, the light could turn off but it's likely that tires will still be a few PSI under inflated. This is why it's important to check tire pressure regularly."
The U.S. Tire Manufacturers Association stated that for every 10 degree drop in temperature, your car's tire pressure can decrease by one to two pounds per square inch (PSI). Checking your car's tire pressure is vital for your safety, your vehicles safety, tire life, and gas mileage.
Under-inflated tire pressure can lead to lower gas mileage by around 0.3 percent for every one PSI drop in pressure. With all tires most likely losing some pressure this can quickly add up to make your vehicle noticeably less fuel efficient.
Rich White also had this to say, "Tire pressure should be checked at least monthly. It is important to note that newer cars with tire pressure monitoring systems may not alert you until the tire is significantly under-inflated, so you may want to check it more frequently," said White. "It is important to check tire pressure whenever there is a significant weather change and more often during the winter months."
Make sure to stay on top of your vehicle's tire pressure especially during the cold winter months to ensure your safety, your vehicles safety, your tires lifespan, and your car's fuel efficiency.
If you're not sure how to check your car's tire pressure or what to do when it gets low, call Bob's Auto Repair at 215-343-1255 and we'll make sure to get you back on the road quickly and safely.